Welcome to Destination DePaul!
We are delighted to introduce Destination DePaul–a lively "journey" for the imagination across three weeks this summer. Camps will run from 9-4 each day and are open to all children entering grades 3 through 6 in Fall 2016. Camps are NOT limited to those with hearing loss. This is a community endeavor by the school. Tuition is $250 for one week. Additional registrations (for siblings or multiple camp weeks) are discounted 10%! See registration details below for more information.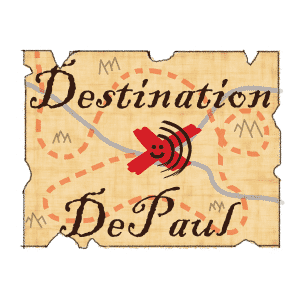 Gaming Gazebo July 25-29, 2016
They say that life isn't just fun and games—but this week certainly is! In the Gaming Gazebo we will explore all types of (non-electronic) games and gaming, including some of the earliest games, the timeless classics, and some new favorites. Board games, card games, and storytelling games will frame this "destination," and campers will use what they learn to design a game of their very own!
Career Cabana August 1-5, 2016
Have you ever wondered what it's really like to be a fireman…or a doctor…or an artist? Come to the Career Cabana and explore these options and many more. In this "destination" we will meet the people in your neighborhood and get a behind the scenes look at what they do, where they do it, and how they got there in the first place. It's a tropical getaway to the future! Your future!
Bridges to the Burgh August 8-12, 2016
Pittsburgh has held many names over the years, from its days as the "smoky city" to the more recent claims of being "most livable." In this "destination" we will journey through the past—both near and far—and meet some of Pittsburgh's pioneers. These are the people whose lives and stories crafted the connections—the bridges—that put Pittsburgh "on the map" (so to speak) and make it a place so many love to just call "home."
Registration
To register for Destination DePaul, you can do one of the following:
Register online
Download our Camp Registration Form
Call DePaul School at 412-924-1012 and ask for Sara in development
Enrollment
Enrollment each week is limited to 15 campers, so don't wait to register! Registrations will be processed in the order they are received, but space is not guaranteed until payment is received. Once the camp has filled, a waiting list will be created. There is no charge to be placed on the waiting list.
Cancellation
If enrollment is low, Destination DePaul will be cancelled.  This decision would be made at least two weeks prior to the start of camp and any payments would be refunded.
If a camper wishes to withdraw from Destination DePaul, any paid tuition, minus a $25 administrative fee, will be returned.  No tuition fees will be refunded if a camper withdraws within one week of the first day of camp.
Forms
All campers must complete necessary forms by the first day of camp (emergency contact, medical, media release). Forms will be available soon for download.
Location
Camps will take place at DePaul School for Hearing and Speech, located at 6202 Alder Street in Shadyside.