Founded in 1908 by the Catholic Diocese of Pittsburgh and the Sisters of Charity of Seton Hill, DePaul School for Hearing and Speech has been providing quality Listening and Spoken Language (LSL) education for children with hearing loss for over 100 years. The goal then, as it is now, was to prepare each student for success in our hearing and speaking world.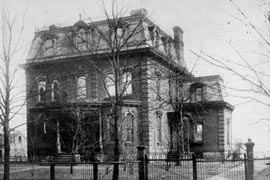 The school was originally known as the Pittsburgh School for the Deaf (and then as DePaul Institute) and was located in the Lappe Mansion on the North Side of Pittsburgh. Because of the school's growing population, the Pittsburgh Diocese purchased property in Mt. Lebanon and built a new facility in 1911 for educational and residential programs. The programs at DePaul School grew and prospered on that site until the summer of 2002, when DePaul moved to its new location in the Shadyside neighborhood of Pittsburgh.
At DePaul School, children who are deaf or hard of hearing are taught to understand spoken language and to speak clearly and with confidence while being provided a rich academic curriculum. DePaul is the only school in Western Pennsylvania where the integration of listening, speech and language development are taught in every classroom, every day. The school curriculum is closely aligned with state and national standards in all academic areas and the maximum student to teacher ratio is 4:1.
DePaul School is one of only 41 OPTIONS schools in the country teaching Listening and Spoken Language (LSL) education to children who are deaf or hard of hearing. DePaul is the only LSL school in the Western Pennsylvania, Ohio and West Virginia tri-state area. Additionally, DePaul is one of only a handful of LSL schools in the nation who will teach children above age six. Programs at DePaul School serve children from birth to age fifteen. DePaul School also educates children who have been late-diagnosed, who are transferring from sign language or Total Communication programs, or who have additional disabilities.
Students who are deaf or hard of hearing at DePaul School learn to listen and speak without using sign language and fully participate  in our hearing and speaking world. A typical student at DePaul School spends, on average, four years at the School before being ready to transition to the mainstream. Over 70% of the students who attend DePaul School's Early Education programs transition to their neighborhood schools by first grade.